A Shrine to Saint Francis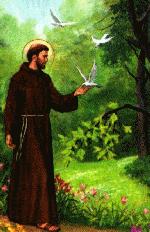 : If you would like to join this prayer circle via internet and receive prayer petitions (all of which must be treated with complete respect for privacy) please contact me at our new e-mail catholichomesite@hotmail.com (please see next paragraph). I will put your name on our mailing list and will send you prayer petitions for you to help us pray. God bless you all.

Also, I have just arranged for a new e-mail address to be used for prayer petitions to the prayer circle. Apparently, the old e-mail address was constantly receiving junk mail and would often block prayer requests from being received by our prayer circle. A blessed statue of St. Francis has been dedicated and placed in an altar for the petitions you send. If you have tried to get e-mails and prayer requests sent back or you didnt notice them posted to the site, I apologize. St. Francis has surely heard your prayers, even if I was not able to make the petition for you. A good brother had assured me that your prayers will be said over a relic of St. Francis, however, his e-mail has been lost to us. If you know of another who would wish to fulfill this job please let me know. The new e-mail address has been updated on the site at multiple places, but if there is a place that we missed please let us know.
---


If you have a petition you wish to present to St. Francis, please leave your name and your petition and we will pray along with you to St. Francis. All e-mail addresses and petitions will be kept confidential unless you wish otherwise. Previously, petitions could be posted on the webpage. For ethical and privacy reasons, we will no longer post the petitions. However, as more people join the prayer chain, we will spread your prayer amongst many to beseech St. Francis to pray to God for you. God Bless.








Please pray for Ricka, her grandfather, and her sister (Monique). Her grandfather died from cancers in the body, and she is deeply affected by it. Plus the sadness of her sister...whose best friend was killed in a car accident. Please pray for them.

---

Jan asks that we, "Please pray that the world may find compassion and reverence for all life."

---

Eric prays, "Thank you for granting a local job to my daughter-in-law; please grant [a] local job to my son."

---

Danielle asks for,"[her] family [to find] a way to prosper in service of humanity."

---

The Wear Family asks for, "Pray for our dog that died last night."

---

Karol prays that," [St. Francis] pray[s] for my nine year old cat, Zebra, who is suffering from an unknown lung problem. She's trying to be strong but it's eating away at her strength and her heart. My dear Saint Francis, when you take her from me, please watch over her and keep her happy; it's the least that she deserves."

---

Mr. Smith asks, "[Please] pray for my wife, as she is afflicted with many physical ailments. She really needs prayer."

---

Namali prays, "...for peace in Sri Lanka."

---

C.P. asks that she might be able to attend several Church retreats that would allow her to grow in her faith, and that her family be blessed with the Lord's Divine Mercy and Love for the year.

---

A.L.F. asks, "for guidance for my son in his new business so he will do good and for his wife's health, and for peace and understanding between our oldest son and my husband."

---