A Shrine to Saint Therese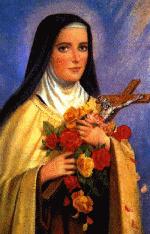 : If you would like to join this prayer circle via internet and receive prayer petitions (all of which must be treated with complete respect for privacy) please contact me at our new e-mail catholichomesite@hotmail.com (please see next paragraph). I will put your name on our mailing list and will send you prayer petitions for you to help us pray. God bless you all.

Also, I have just arranged for a new e-mail address to be used for prayer petitions to the prayer circle. Apparently, the old e-mail address was constantly receiving junk mail and would often block prayer requests from being received by our prayer circle. If you have tried to get e-mails and prayer requests sent back or you didnt notice them posted to the site, I apologize. St. Therese has surely heard your prayers, even if I was not able to make the petition for you. The new e-mail address has been updated on the site at multiple places, but if there is a place that we missed please let us know.
---





If you have a petition you wish to present to St. Therese, please leave your name and your petition and we will pray along with you to St. Therese. All e-mail addresses and petitions will be kept confidential unless you wish otherwise. If you wish that your petitions be posted on the webpage, please mark yes or no as a PS. God Bless.



---
Prayer Requests:
Please pray for Ricka, her grandfather, and her sister (Monique). Her grandfather is dying of cancers in the body, and she is deeply affected by it. Plus the sadness of her sister...whose best friend was killed in a car accident. Please pray for them.

---